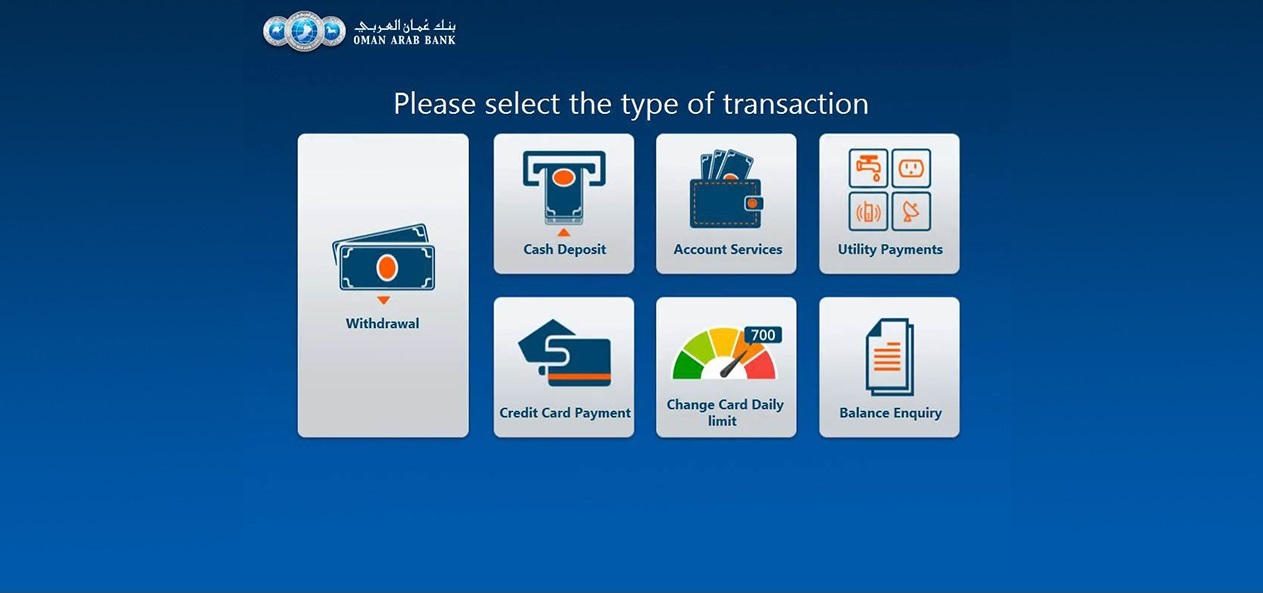 Muscat, November 2nd 2016 – Continuing to lead the Sultanate in the use of banking technology and presenting a new level of convenience for its customers, Oman Arab Bank (OAB) has introduced APTRA™ Activate, the world's most advanced self-service software, to its nationwide network of ATMs. The first bank in Oman and the third GCC bank to use this cutting-edge solution, OAB Bank takes pride in meeting the needs of its customers in the best and most innovative ways possible.
With attractive easy to use touch screen animation, a variety of hi-speed and highly secure OAB ATM services are now possible thanks to APTRA™ Activate. These include making local and international transfers as well as credit card payments; paying utility, mobile and internet bills; requesting instant e-statements and balances on accounts, loans and credit cards; and updating mobile contact numbers.
"One of the Sultanate's most popular methods of day-to-day banking, OAB ATMs serves customers 24 hours a day, seven days a week and as such are a pivotal part of how our customers manage their personal financial transactions. Equipped with this state-of-the-art programme, our ATMs now not only accommodate the broadest possible range of services but also reflect the exemplary standards the bank endeavors to deliver in its comprehensive branch network spread across the country," noted Fahd Amjad, GM of Retail Banking.
Jamil Abdulqader Al Zadjali, OAB AGM – Head of Digital Banking added, "With a focus at all times on providing the most convenient, safe, and reliable services, OAB has always fully embraced the use of technology. As a result, we offer straightforward and consistent interactions across online, mobile, ATMs, and branches in a seamless multi-channel approach, responsive to our customers' changing needs, expectations, and preferences. And by implementing this game changing software we are proud to have placed our valued customers once again at the forefront of banking innovation."
A pioneer of technology in Oman's burgeoning banking sector, OAB has harnessed its rich possibilities to implement financial solutions that complement today's modern lifestyle, and create the best possible experience for customers as they connect, interact and transact.
https://www.oman-arabbank.com/wp-content/uploads/APTRA-Activate.jpg
0
0
Anas Assarie
https://www.oman-arabbank.com/wp-content/uploads/SiteLogo-300x97.png
Anas Assarie
2016-11-02 16:21:05
2016-11-02 16:21:05
OMAN ARAB BANK UNVEILS NEXT GENERATION ATM BANKING EXPERIENCE