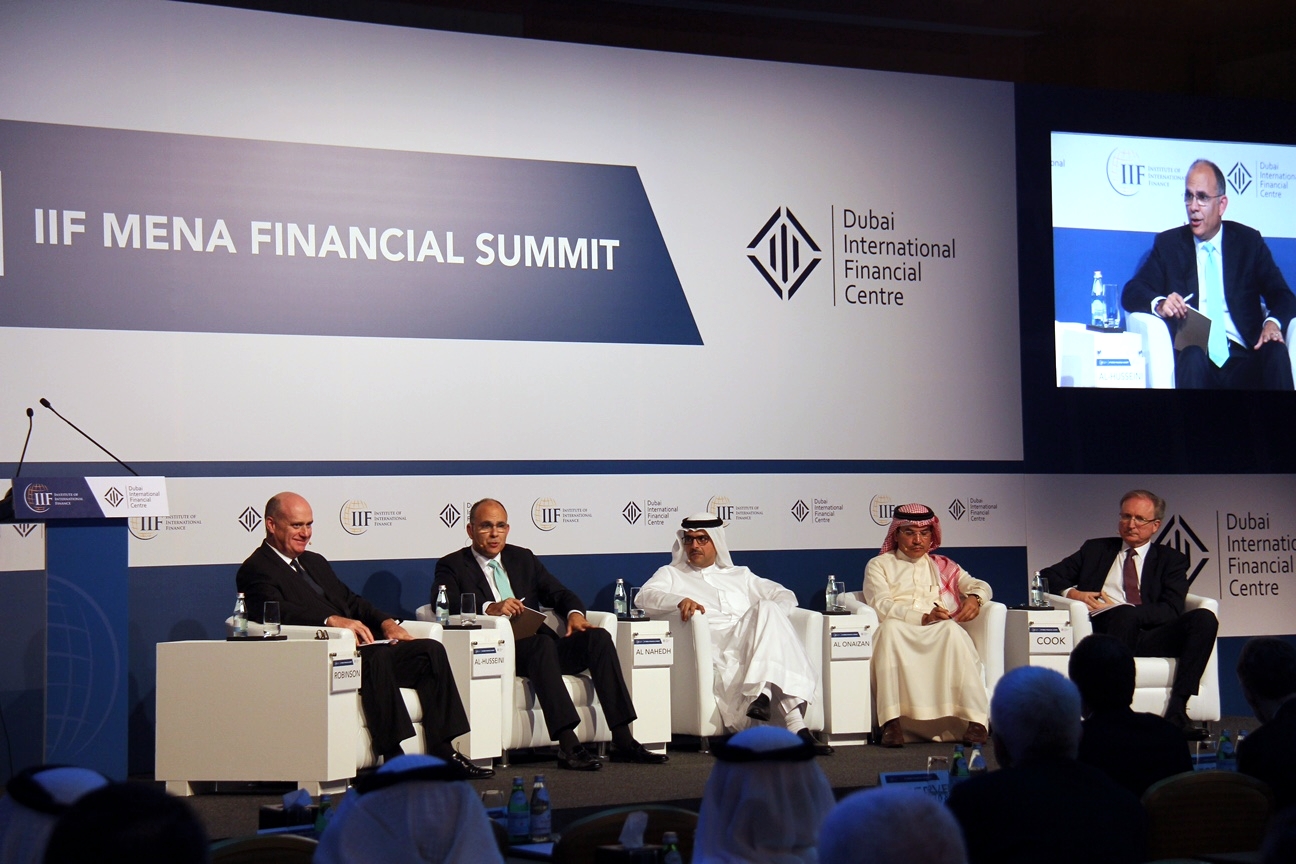 Muscat, February 16, 2017:  Amin Al Huessaini Oman Arab Bank, participated in a panel discussion on the 'New Challenges Facing GCC Banks: Views from the C-Suite' at the IIF MENA  2017 Financial Summit held this week.
Organized by the Institute of International Finance (IIF) and held at the Ritz Carlton – Dubai International Financial Centre Hotel, the 2017 IIF MENA Financial Summit took place between February 13-14. This financial world event was attended by more than  250 financial  leaders and policymakers from across the MENA Region, including global market participants.
The Summit featured expert panels and keynote speakers addressing topics of central importance to the financial industry, while discussing challenges and opportunities for this important and dynamic region of the world. These were conducted in a series of nine sessions and four keynote addresses, with topics ranging from 'the outlook for the global economy' and 'developments in the global oil market' to 'current initiatives in the region promoting technology and innovation in the financial industry'. Amin Al-Husseini participated as a panelist in  a session on the new challenges facing GCC banks, held on the first day of the summit. The session illustrated how financial institutions overcame the  challenges faced in light of the sharp fall in oil prices, tightening liquidity  and rising interest rate.
Commenting on his participation in the Summit, Amin Al-Husseini noted, "I am privileged and humbled to sit on a panel representing the Omani Banking Sector. The IIF MENA Financial Summit provides a valuable opportunity for financial business leaders and experts from the MENA region to touch upon the various headwinds being faced by the Banking and Financial sector; facilitating the exchange of strategies and experience, together with possible solutions.
As part of his participation, Amin Al-Husseini, together with the remainder of the five-member panel, provided attendees with an outlook on the overall environment for Banks in the GCC in the next 12 to 24 months; including the key challenges they will face with regards to liquidity, regulatory developments , and the implementation of the new accounting methodology IFRS-9. The discussion panel also touched on other key areas of interest including Industry Consolidation, Compliance, Cyber Security, Digital Disruption, and Debt Capital Markets.
"Our participation in an event of such importance to the region also provided us with an invaluable opportunity to network with key financial leaders and experts from across the MENA Region; sharing ideas and solutions that address specific client needs. In doing so we can mold our own products and services to better serve the needs and requirements of our customers," concluded al Huessaini.
Oman Arab Bank is one of the first banks to be established in Oman, with a rich and proud history dating back over three decades. Consistently expanding its reach, the Bank today operates a nationwide network of 65 branches and offices and over 135 ATMs spread across the Sultanate. It provides the complete range of financial products and services for personal banking, corporate, and investment clients.
https://www.oman-arabbank.com/wp-content/uploads/IIF-CEO.jpg
0
0
Yazan Amro
https://www.oman-arabbank.com/wp-content/uploads/SiteLogo-300x97.png
Yazan Amro
2017-02-16 17:16:11
2017-02-16 17:16:42
Oman Arab Bank Participates in 2017 IIF MENA Financial Summit