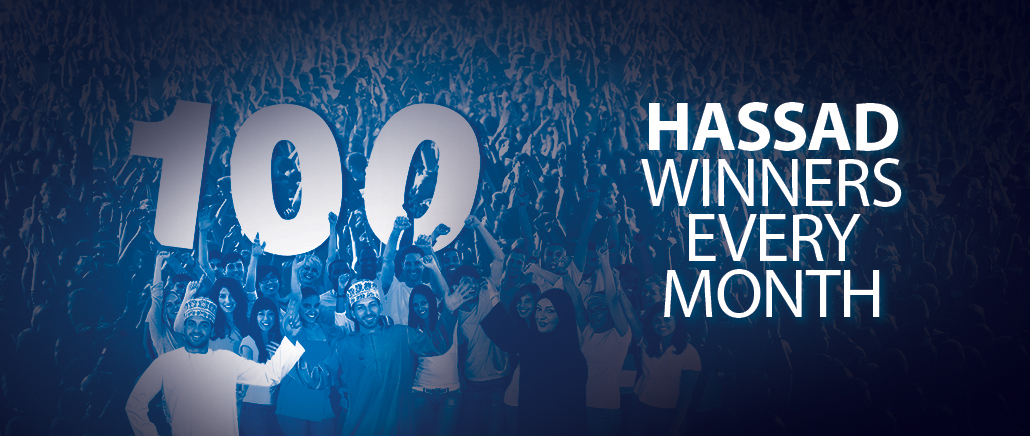 Muscat, February 14th, 2017: Oman Arab Bank (OAB), encouraging the savings habit with customers, has announced the new 'Hassad' Savings Scheme for 2017. The scheme has been completely revamped from last year to offer customers greatly increased chances of winning, with 100 guaranteed winners per month with different prize draws covering regional, Children's, and Elite Account holders, together with Monthly Bumper Prizes and special customer draws.
Commenting on the launch of the new scheme, Fahd Amjad, the General Manager of Retail Banking at OAB said, "We believe our new 'Hassad' savings scheme makes Oman Arab Bank the bank of choice for customers looking to get rewarded for the habit of saving. By rewarding 100 winners monthly, we have now substantially improved the chances of winning for all our customers."
The new Hassad savings scheme ensures customers from every region and branch have an equal opportunity to win, with OAB conducting prize draws every month alternating between regions and nationwide draws. Each of the draw will ensure a minimum of two winners of OMR 1,000 per branch in that respective region, together with multiple winners of OMR 500 across all branches and one Bumper draw of OMR 25,000 per month.
Oman Arab Bank's banking proposition "Elite" for High Net worth customers will also benefit from the revised Hassad scheme. Elite customers will now be participating in a dedicated monthly draws with a prize pot of RO 25,000 monthly, together with a half-year and year end prize draw of RO 50,000 in June and December.
Continuing it's tradition to reward children and ladies, Hassad prize scheme will have dedicated draws for both customer segments. Additionally, special occasion prizes for Omani Teachers day, Women's day, Khareef, Eid Al Fitr & National day will also be celebrated with prizes for lucky winners.
OAB customers can easily open a 'Hassad' account with a minimum balance of OMR 100, in order to be eligible for the prize draws.
Oman Arab Bank is one of the first banks to be established in Oman, with a rich and proud history. Today, the bank operates a nationwide network of 67 branches and 120 ATMs spread across the Sultanate. OAB provides the complete range of financial products and services for personal banking, corporate and investment clients.
https://www.oman-arabbank.com/wp-content/uploads/news_en.jpg
0
0
Yazan Amro
https://www.oman-arabbank.com/wp-content/uploads/SiteLogo-300x97.png
Yazan Amro
2017-02-14 20:08:35
2017-02-16 16:48:10
Oman Arab Bank announces new "Hassad" prize scheme with 100 Monthly winners