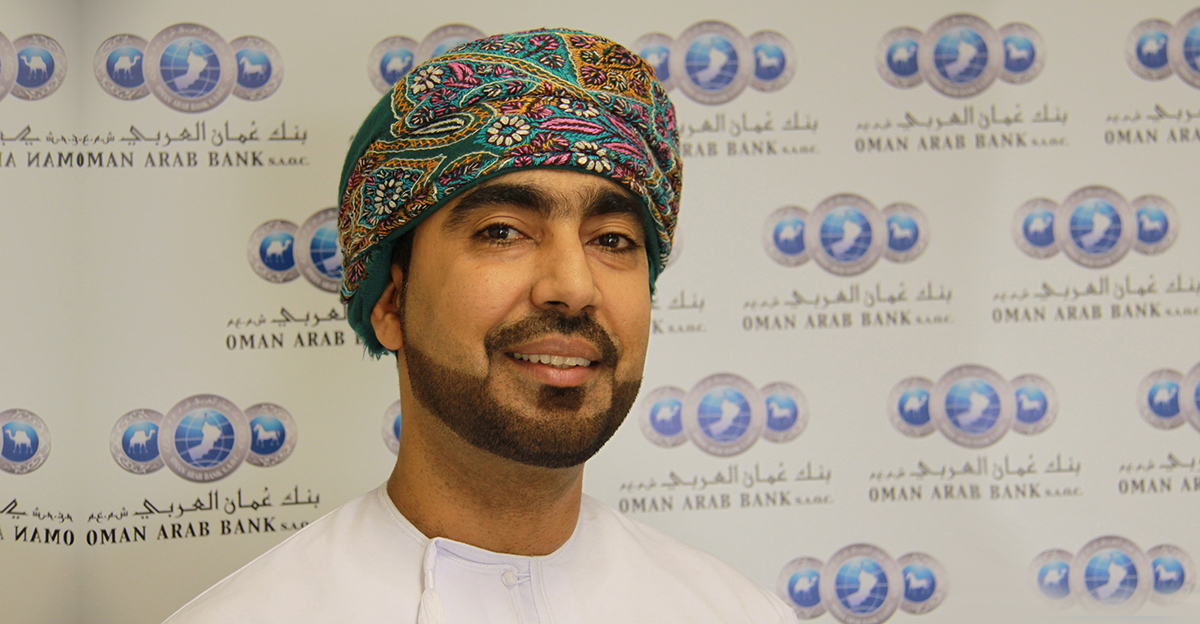 Muscat, 09 October, 2017 | Oman Arab Bank (OAB) have announced the appointment of Mr. Adil bin Ali Al Rahbi as the new Head of the Human Resources (HR) Division. In his new role, Adil will oversee all strategic HR functions at the Bank in accordance with international best practice. These functions will include talent acquisition and retention, human capital planning, ongoing training programmes, digital learning, organisational culture, and professional development.
Commenting on the appointment, Mr. Amin Al Husseini, CEO of OAB said, "We believe in the skills and capabilities of our national workforce; skills that qualify them to hold senior positions in the Bank. It is through their efforts, and the efforts of everyone within the Bank that we continue to move OAB closer to its ultimate goal of becoming the number one bank of choice for employees and Omani professionals. We value and invest in our staff, in turn ensuring that we provide a consistently high level of service that meets the expectations of our valued customers."
"On behalf of the management and staff at OAB, I wish Adil Al Rahbi the best of luck for his new position. I am confident that his experience of over 27 years in the fields of staff management and training, will enable us to further enhance the HR capabilities at the Bank; ensuring that our staff benefit from world-class professional development and organisational excellence," added Amin Al Husseini.
Adil Al Rahbi has over 27 years of experience in his field and began working with OAB in February 2015 as the Head of Employee and Organisational Development. He cooperated with the team in order to create a paradigm shift in the role human resources plays; establishing it as a strategic partner in achieving bank targets and managing the change in order to ensure continuous development of the staff. He joined the bank with a long track record of experience, having worked with numerous organizations spanning several sectors. He began his career as the Head of Training at a governmental body. Following which, he moved to Qatar taking up a position as the Administrative Services Manager in one of the biggest international companies in the country. He then returned to Oman joining the private sector for eight years.
Al Rahbi holds MSc in Human Resource Management and Training from the University of Leicester, UK. He also holds a Post Graduate Diploma in Maritime Management from Australia and a Diploma in Police Sciences from the Sultan Qaboos Academy for Police Sciences.
This assignment comes as part of the Bank's strategy in the field of developing human resources and providing the best possible opportunities towards career progression. This was clearly reflected in the number of young staff that recently qualified and were assigned to senior positions in various departments and fields within the Bank, following their enrolment in the 'Qiyada' program. This strategy will be promoted to include all job categories by designing training programs and workshops that satisfy their functional needs. To this end, several new projects and initiatives were launched; including the likes of the 'Masar' electronic performance management system and the Competency Matrix project for all jobs. A further reflection of the Bank's commitment towards providing opportunities for career growth amongst all job categories, it launched the 'Ta'heel' program for developing the skills of employees, among other programs.
Oman Arab Bank is one of the first banks to be established in Oman, with a rich and proud history. Today, the bank operates a nationwide network of 57 branches and 8 representative offices across and 148 ATMs spread across the Sultanate. OAB provides the complete range of financial products and services for personal banking, corporate and investment clients.
https://www.oman-arabbank.com/wp-content/uploads/Adil-Al-Rahbi-web.jpg
0
0
Yazan Amro
https://www.oman-arabbank.com/wp-content/uploads/SiteLogo-300x97.png
Yazan Amro
2017-10-09 14:05:44
2017-10-16 14:30:22
OAB Appoints New Head of HR