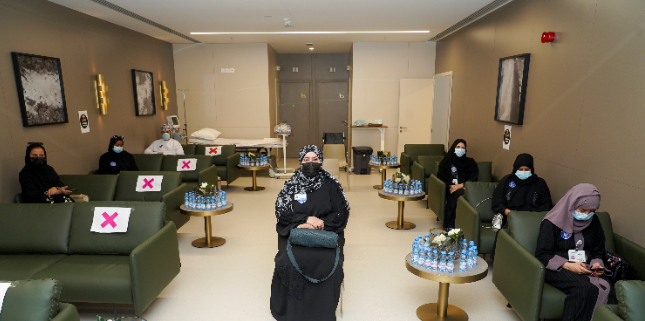 Includes employees and their families
Muscat, July 05, 2021: Oman Arab Bank (OAB) announced a COVID-19 vaccination drive for the administration of the second dose of the Pfizer vaccine for its employees and their families. This is in line with the national vaccination drive, spearheaded by the Ministry of Health. The initiative includes children over the age of 12, following the Ministry of Health's directives to include individuals from this age group.
This step is also aligned with the Wiqaya programme, launched by the Bank's Human Resources Division, ever since the onset of the pandemic. The initiative will run in coordination with multiple hospitals across various Wilayats, providing ease and accessibility to staff, without the need for them to travel to Muscat.
Commenting on the success of the initiative, Rashad Al Musafir, CEO of the Bank said, "We are proud of the level of awareness shown by the employees from all Wilayats and their willingness to participate in the vaccination campaign. Upon completion of the second stage of vaccination, we will surely be in a better position to reduce the spread of infection. Furthermore, instructions have been issued to relevant divisions to maintain all precautionary measures and educate employees of the need to adhere to them, even after receiving the vaccination, as per the Ministry of Health directives."
The vaccination campaign began on Sunday, July 4, 2021 and included the employees of the head office and the Bank's branches in the capital who have completed 3 weeks at least from getting their first dose. It will later include the employees from the 53 branches spread across the Sultanate in the upcoming weeks, with a coverage rate of 100%. The cost of the second dose for employees and their families will be covered by the Bank.
"Through this campaign, we aim to support the government's vaccine provision efforts to everyone in the Sultanate, stemming from our role in this field. We wish safe health and well-being to all citizens and residents alike, as we look forward to starting the recovery phase soon, together with everyone's efforts," Al Musafir added.
Oman Arab Bank has a rich and proud history as one of the first financial institutions to be established in the Sultanate. Today, the bank operates a nationwide network of 53 branches and representative offices with 160 ATMs spread across Oman. OAB provides a complete range of financial products and services through its OAB Online App. Customers can now digitally open an account and benefit from several other services, directly from the convenience of their mobile phones.
https://www.oman-arabbank.com/wp-content/uploads/1.png
429
645
Hilal Al Siyabi
https://www.oman-arabbank.com/wp-content/uploads/SiteLogo-300x97.png
Hilal Al Siyabi
2021-07-05 15:57:53
2021-07-05 15:57:53
OAB Announces Initiative for Second Dose of COVID-19 Vaccination