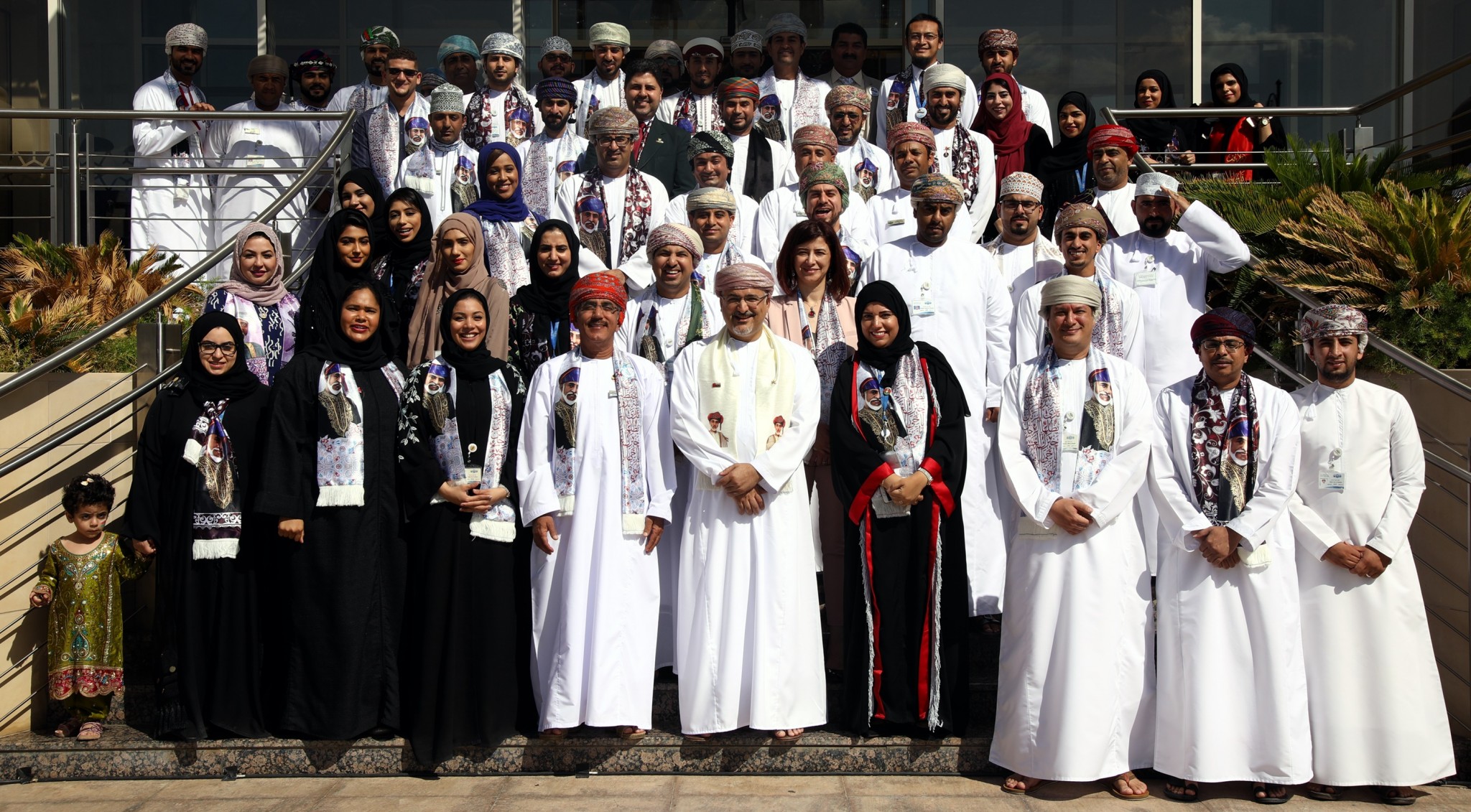 Muscat, November 19, 2017: Oman Arab Bank, on the occasion of the Sultanate's 47th National Day, organised a special staff gathering at its Head Office in Ghubra. The event was held for staff to join in the nation's celebrations and to honour and thank His Majesty Sultan Qaboos bin Said for his wisdom and leadership in the development and prosperity of the Sultanate over the course of these past 47 years.
The celebration was held on November 19, and was presided over by Amin Al Husseini, the Chief Executive Officer, and Rashad Al Musafir, the Deputy Chief Executive Officer. The event was also attended by members of the senior management and staff from branches across the capital.
Commenting on the event, Amin Al Husseini said, "Over these past 47 years, Oman has proven itself to be a beacon of peace and prosperity in the region; transforming into the progressive nation we live in today. All this has been made possible thanks to the visionary outlook and wise guidance of His Majesty the Sultan. As a local Bank we are glad to gather together with our staff as one family to pay tribute to His Majesty for his wise and benevolent leadership."
The celebration opened with the National Anthem and a welcome speech by Amin Al Husseini. Shortly thereafter, the staff were treated to a poetry recitation by Aya bint Murad Al Balushi. The event also saw a special raffle draw conducted specifically for the event followed by a cake cutting ceremony by the executive members of the Bank to mark this joyous occasion. The event concluded with some refreshments and traditional music played by a live band.
"On Behalf of everyone here at OAB I would like to express my warmest congratulations to His Majesty the Sultan and wish him the best of health on this joyous occasion. I would also like to congratulate the people and residents of the Sultanate, whose collective contributions have played an integral part in the progress and transformation of the nation over these past four decades. We as a Bank are truly privileged to be a part of the Country's success story concluded Mr. Rashad Al Musafir.
Oman Arab Bank is one of the first banks to be established in Oman, with a rich and proud history. Today, the bank operates a nationwide network of 65 branches and representative offices across and 148 ATMs spread across the Sultanate. OAB provides the complete range of financial products and services for personal banking, corporate and investment clients.
https://www.oman-arabbank.com/wp-content/uploads/OAB-Staff-Celebrate-National-Day-3-1.jpg
0
0
Yazan Amro
https://www.oman-arabbank.com/wp-content/uploads/SiteLogo-300x97.png
Yazan Amro
2017-11-19 09:00:29
2017-12-25 17:08:52
OAB Staff Celebrate National Day