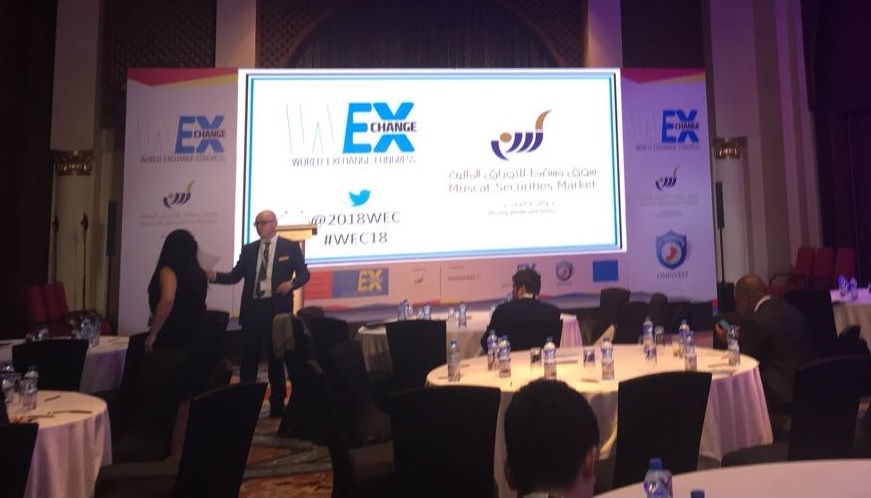 Muscat, March 4, 2018: In line with its commitment towards supporting important events hosted by the Sultanate, giving special emphasis to commercial events, Oman Arab Bank (OAB) recently sponsored the 13th edition of the World Exchange Congress. The event was organised by Terrapin in partnership with Muscat Securities Market (MSM) and took place on 27-28 February 2018 at the Shangri-La Barr al Jissah Resort and Spa. As one of the world's largest financial gatherings, the Congress brought together the world top investment funds and stock exchanges, in addition to several other key stakeholders.
Commenting on the importance of sponsoring such an event, Rashad Al Musafir, the Acting CEO of Oman Arab Bank said, "Sponsoring the World Exchange Congress, which was hosted by MSM, reinforces our strong belief in the necessity of the constant collaboration between the government and private sector. Nowhere is this more evident than in the securities industry. In fact, we are delighted with the knowledge we gained from our participation in such an important forum, one that helped us network and interact with some of the leading experts of the stocks world. Furthermore, a forum such as this is essential in helping boost the profile of the Sultanate on the global financial stage, as well as presenting Muscat, together with its various investment opportunities, as an appropriate and qualified destination to host important international events. As such, we are extremely proud to sponsor this forum and look forward to do so again for any similar events in the future."
The opening ceremony of the World Exchange Congress was held under the patronage of His Excellency Dr. Ali bin Masuod Al Sunaidi, Minister of Commerce and Industry. The two-day ceremony also saw the attendance of a number of ministers, under-securities, and officials of various securities markets, investment funds, and investment companies from around the world.
This international forum brought together over 250 experts, specialists, and financial decision makers from 60 different countries. Also present at the event were 40 speakers from around the world who presented papers on several different topics including investment opportunities available in the region's markets, innovative strategies to boost the securities industry, the most recent technologies utilized in stocks exchanges, the technology used in analyzing data and its role in enhancing investment environment and attracting investors, amongst others. The role of securities markets in encouraging innovation and supporting future economic growth, the global trend towards Islamic investment tools, and financial derivatives useful in supporting emerging markets were also investigated.
Oman Arab Bank is one of the first banks to be established in Oman, with a rich and proud history. Today, the bank operates a nationwide network of 65 branches and representative offices across and 148 ATMs spread across the Sultanate. OAB provides the complete range of financial products and services for personal banking, corporate and investment clients.
https://www.oman-arabbank.com/wp-content/uploads/OAB_World_Exchange_13_web.jpg
0
0
Yazan Amro
https://www.oman-arabbank.com/wp-content/uploads/SiteLogo-300x97.png
Yazan Amro
2018-03-04 20:56:32
2018-03-04 20:56:32
OAB Sponsors 13th Annual World Exchange Congress