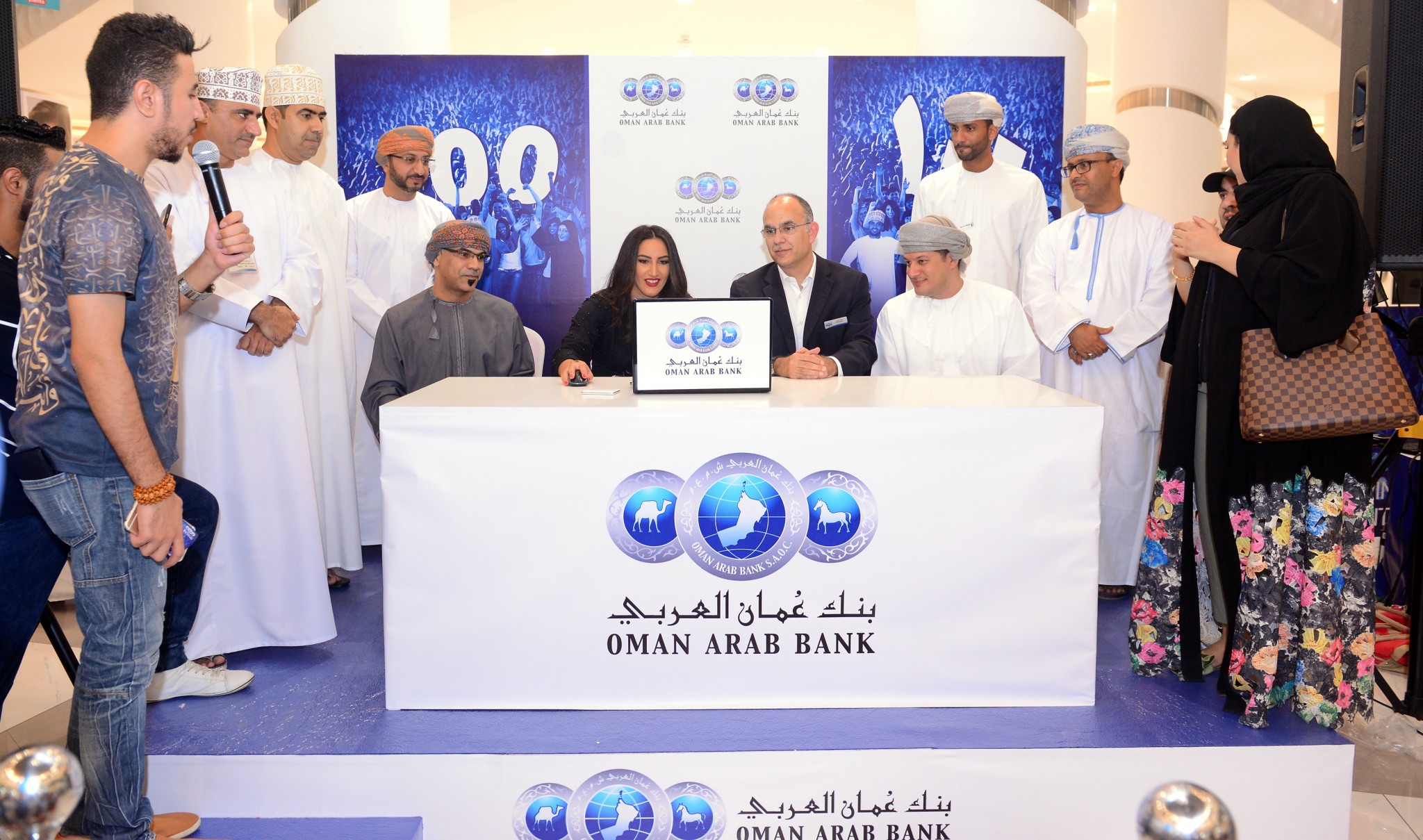 Muscat, July 9, 2017 – Oman Arab Bank (OAB) recently held its sixth monthly draw of this year's 'Hassad' Savings Scheme live at the Avenues Mall in Muscat. The draw event was held under the auspices of Fatma Al-Nabhani, the famous Omani tennis player, and was attended by Amin Al Husseini, the Chief Executive Officer of the Bank, together with other senior members of the Bank's Retail Department. Totaling 100 winners, the draw saw 25 winners receive OMR 500 together with 28 winners receiving OMR 1,000 and ten winners of the OMR 250 child account draws. The draw also saw one customers win Bumper Draw of OMR 25,000, as well as an Elite Draw winner of OMR 25,000. In addition, the Bank also held a special Eid draw where 35 winners received OMR 300 each.
Rashad Al Sheikh, DGM of Retail Banking at OAB said, "This year's scheme focuses on rewarding customers through two kinds of monthly draws. The main draw alternating between each of our different regions of operation and the Nation each month as it offers greater opportunities for our customers to win. This month's draw was focused on the nation as a whole with winners being selected from across each of our 57 branches across the country."
The draw event, which was held at the Avenues Mall in Muscat, saw a number of fun activities being held for children including face painting, games, contests, and even dedicated drawing areas. There were also some special prize draws conducted for attendees of the event.
"On behalf of OAB, I would like to congratulate each of the 100 winners of our 'Hassad' savings scheme draw for the month of June. As well as wish all our customers the best of luck for the remaining draws which will continue until the end of 2017," added Rashad.
Launched earlier in the year, the new Hassad savings scheme ensures customers from every region and branch have an equal opportunity to win, with OAB conducting prize draws every month alternating between regions and nationwide draws. Each of the draw will ensure a minimum of two winners of OMR 1,000 per branch in that respective region, together with multiple winners of OMR 500 across all branches and one Bumper draw of OMR 25,000 per month. OAB customers need only open a 'Hassad' account with a minimum balance of OMR 100, in order to be eligible for these prize draws. The Bank will also be conducting region and nationwide draws for children's accounts with 10 winners of OMR 250 per month.
Oman Arab Bank's banking proposition 'Elite' for High Net worth customers will also benefit from the revised Hassad scheme. Elite customers will now be participating in a dedicated monthly draws with a prize pot of OMR 25,000 monthly, and the upcoming year-end prize draw in December of OMR 50,000.
Oman Arab Bank is one of the first banks to be established in Oman, with a rich and proud history. Today, the bank operates a nationwide network of 57 branches and 8 representative offices across and over 150 ATMs spread across the Sultanate. OAB provides the complete range of financial products and services for personal banking, corporate and investment clients.
https://www.oman-arabbank.com/wp-content/uploads/Hassad-June.jpg
0
0
Yazan Amro
https://www.oman-arabbank.com/wp-content/uploads/SiteLogo-300x97.png
Yazan Amro
2017-07-09 09:00:37
2017-07-13 16:35:07
OAB CONDUCTS HASSAD SAVINGS SCHEME DRAW FOR JUNE AT AVENUES MALL