Muscat – January 2016:  In the vibrant ambiance of Muscat Festival 2016, Oman Arab Bank (OAB) hosted a colorful ceremony to announce the Grand Prize of OMR50,000 for a lucky "Hassad" savings scheme customer. The winning customer banks at Barka branch. The event was held at Amerat public park and included exciting games and performances for a wide audience.
The draw was held in the presence of Mr. Fahd Amjad, GM Retail Banking, along with a number of Senior Bank Officials. On the occasion he said: "Hassad" is our flagship savings scheme through which we encourage the habit of saving in our customers. We selected Muscat Festival as our appropriate setting to make winner announcements as the festival continues to attract visitors with fun activities for families. Our event complemented the theme with entertainment and recreational activities for one and all." He added: "We invite all our customers to participate in "Hassad" savings scheme as we have now introduced bigger and better chances to win for everyone."
OAB has increased the monthly regional prize from RO 20,000 per winner in 2015 to a greater prize of RO 40,000 per winner in 2016. "Hassad" also continues to reward its younger segment and female savings account holders by offering them higher value prizes. Five lucky female winners will win RO 1,500 each every month increased from RO 1,000 in 2015. Five lucky child account holders will also win RO 1,000 each every month increased from RO 500 in 2015. "Hassad" savings scheme will end the year with a Mega draw of RO 50,000 for 2 lucky winners each!
The new exclusive customer segment to reward for their savings within "Hassad" prize scheme is OAB's newly established Elite Priority banking segment. Elite customers will be eligible to win a whopping prize draw of RO 100,000 in both June and December each. The Elite Priority Banking customers maintaining a minimum balance of RO 35,000 are eligible to participate in all "Hassad" prize draws, in addition to exclusive prize draws earmarked for them.
"Hassad" celebrates the Sultanate's special occasions with specially designed draws for Eid Al Fitr , Women's Day & National Day. Customers will be rewarded on Eid Al Fitr with 5 winners winning RO 1000 each. Women's Day will reward 5 female winners RO1,500 each and celebrating National Day with 46 winners winning RO1000 each .
Mrs. Hana Al Hinai- AGM Wealth Management, Bancassurance and Liabilities said:  With the new "Hassad", OAB is looking to reward various segments for our customers be it parent saving for a child's future or an Elite customer investing his life savings with OAB. We encourage everyone to invest with "Hassad" account and enjoy the excitement of winning one of our exclusive prizes this year.
Oman Arab Bank is a leading bank in the Sultanate of Oman, boasting a wide network of 65 branches and offices, as well as more than 120 ATMs and CDMs across the Sultanate. The Bank provides a complete range of products and services in retail banking, corporate and project finance, investment banking, and trade finance.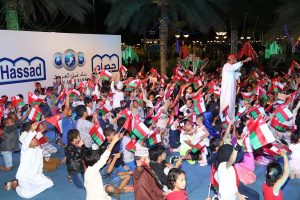 https://www.oman-arabbank.com/wp-content/uploads/hassad-draw-1.jpg
1333
2000
Anas Assarie
https://www.oman-arabbank.com/wp-content/uploads/SiteLogo-300x97.png
Anas Assarie
2016-01-25 16:19:15
2016-03-07 12:27:15
OAB Conducts "Hassad" Grand Prize Draw during Muscat Festival 2016