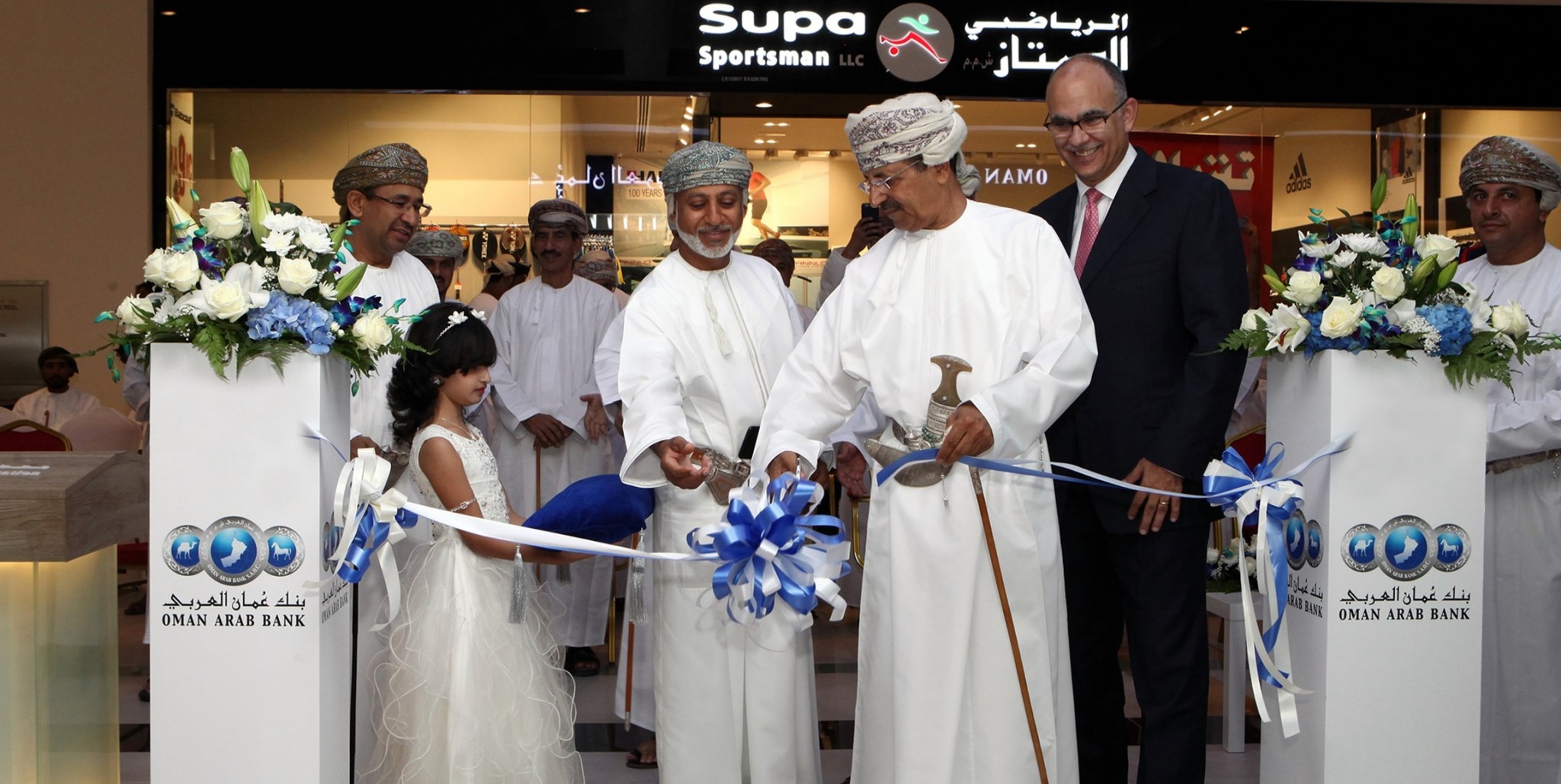 New branch prominently located at Nizwa Grand Mall and open from 9am to 5pm
Muscat, May 24, 2017: Oman Arab bank (OAB) has announced the official opening of its 'new-look' Nizwa branch at the Nizwa Grand Mall. With the opening of this new branch, OAB aims to deliver enhanced banking facilities, efficient and easily accessible services, as well as provide extended opening hours to its customers.
The official opening took place on May 24, under the auspices of Lt Gen Ahmed bin Harith Al Nabhani, Chief of Staff of The Sultan's Armed Forces, and was attended by Hani M. Al Zubair, OAB board member, Amin Al Husseini, CEO of OAB; together with other members of the Bank's executive managment.
Commenting on the opening of the branch, Amin Al Husseini noted, "At OAB we are proudly one of the country's premier banking institutions, and we remain focused on growing closer to our customers. As such we are always on the lookout to offer increased convenience and better facilities to our customers across the country.  The opening of Nizwa Grand Mall aligns with this objective. Additionally, this is the first OAB branch that offers all services, from 9am to 5pm."
The new Nizwa Grand Mall branch features an enhanced brand identity with refreshed look and feel; integral to OAB's transformation strategy. The sleek, modern, and streamlined look is further augmented by a number of new features and systems introduced for the first time in the bank.  The branch has seen the introduction of a meet and greet facility with streamlined queuing system, video walls for bank news, private customer service spaces with multimedia screens for a more personal interaction, together with digital signature pads and ID Card readers within the advisory station design.
Aesthetically the new Nizwa branch takes its design inspiration from the concept of the 'Omani Skyline', wherein the white symbolises Omani architecture, browns denote the sand deserts, grey referencing the mountains, and the blue glass overhangs representing the sky.
Each new look branch has a separate 'Elite' reception, lounge and Elite Relationship Manager office to give premium customers an elegant and private experience that is memorable. The branch transformation combines elements of design, form and function and aims to elevate the customer experience leading to better service.
"Our new Nizwa branch not only helps us meet growing customer demand in that area but also reaffirms our commitment towards providing a range of fast and efficient banking solutions. This new branch location also offers the added advantage of an extremely convenient and easily accessible location that is already frequented by a large number of our customers in the area. We are in the process of transforming our entire branch network, and we look forward to opening a new look branch in Al Hail shortly." concluded Fahd Amjad, GM of Retail Banking at OAB.
Oman Arab Bank is one of the first banks to be established in Oman, with a rich and proud history. Today, the bank operates a nationwide network of 65 branches and offices and over 135 ATMs spread across the Sultanate. OAB provides the complete range of financial products and services for personal banking, corporate and investment clients.
https://www.oman-arabbank.com/wp-content/uploads/Nizwa-Branch-Opening-web.jpg
0
0
Yazan Amro
https://www.oman-arabbank.com/wp-content/uploads/SiteLogo-300x97.png
Yazan Amro
2017-05-24 13:13:14
2017-06-08 02:29:21
OAB Celebrates Opening of New State-of-the-Art Branch in Nizwa