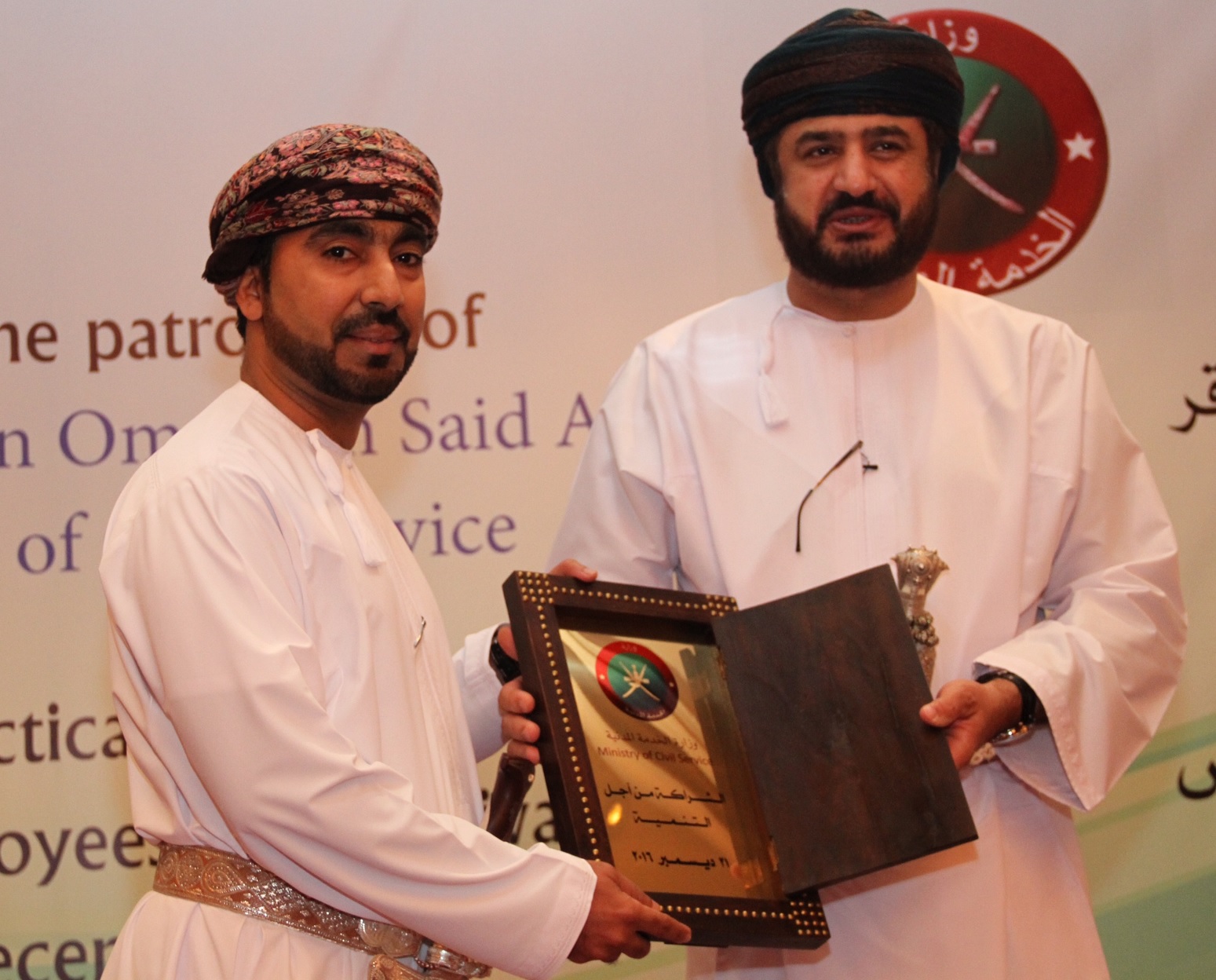 Muscat, 28 December 2016 – Oman Arab Bank ("OAB") has been recently honored for having contributed to the success of the project of hands-on training provided to civil servants from various units of the state's administrative apparatus at private sector organizations (the "Project"), which is implemented by the Ministry of Civil Service. OAB was particularly honored during the official opening ceremony of the Project, which was held by the Ministry of Civil Service on 21 December 2017 under the patronage of HE. Sheikh Khalid bin Omar Al-Marhoon, Minister of Civil Service at Grand Hyatt Muscat Hotel.
Commenting on this occasion, Adil bin Ali Al Rahbi, [Head of Employee & Organizational Development] at OAB commended the Ministry of Civil Service's efforts to reinforce co-operation between both public and private sectors in the area of human resources training and development. Al-Rahbi added that such initiatives directly contribute to an exchange and transfer of knowledge and expertise between the employees of both sectors; help identify the best administrative practices and learn about the state-of-the-art systems implemented at various organizations. He said that OAB had hosted in 2016 a group of civil servants from various units of the state's administrative apparatus to join on-the-job training in different disciplines that serve the nature of their job, each within the scope of his/her competence.
It is noteworthy that OAB signed a Memorandum of Co-operation with the Ministry of Civil Service in June 2015, which Memorandum aims at reinforcing exchange of expertise and good administrative practices so as to improve the performance of human resources; consulting to develop common programs and action plans relating to administrative development; laying down such principles and standards as may be necessary for boosting the performance quality at the level of administrative units and institutions; and co-operating in implementing the on-the-job training project.
https://www.oman-arabbank.com/wp-content/uploads/Civil-Affairs.jpg
0
0
Yazan Amro
https://www.oman-arabbank.com/wp-content/uploads/SiteLogo-300x97.png
Yazan Amro
2016-12-28 16:30:48
2016-12-28 16:30:48
Ministry of Civil Service Honours Oman Arab Bank