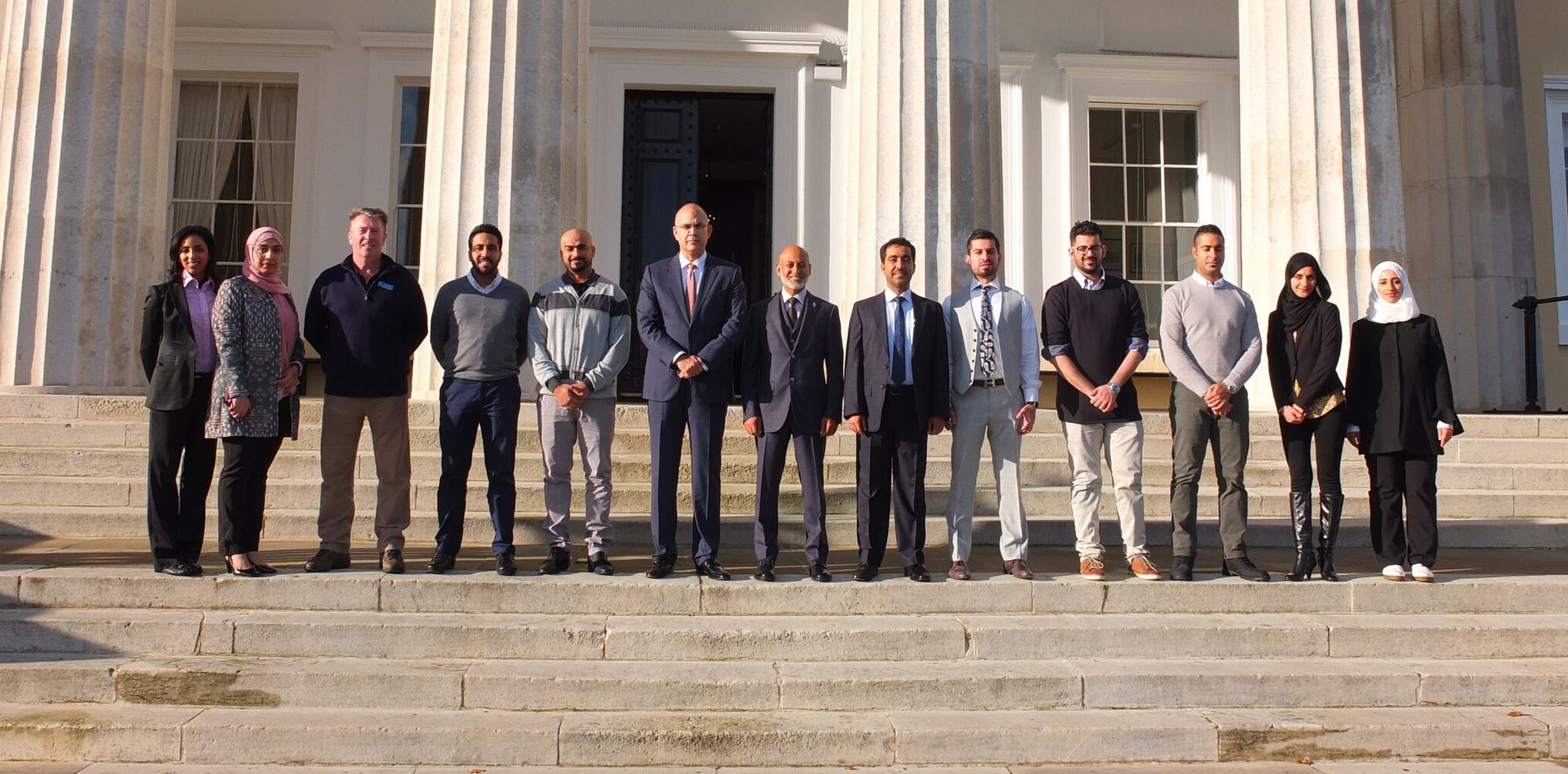 Muscat, 18 December 2016 – In conclusion of Oman Arab Bank's (OAB) 'Leadership Enhancement and Development' (LEAD) program, two high-achieving groups were selected to undertake training and present their projects related to strengthening the Bank's strategies at the Royal Military Academy Sandhurst in the UK. LEAD is facilitated by IDG which has a relationship with Sandhurst that goes beyond sharing the Academy's inspiring surroundings; but also shares an approach to leadership development and incorporates this in all of their leadership models. The six month program comprising of four modules had a total of 20 participants who went through a series of capacity-building leadership and management trainings designed to utilize best practices and provide managerial expertise and high-level workplace solutions.
Attending the final presentations at Sandhurst, CEO of OAB Amin Al Husseini said, "It is a remarkable achievement for these participants to be presenting their work at the renowned Royal Military Academy Sandhurst. At OAB, we have a strong culture of fostering the talent of our employees with the aim to not only develop their professional careers but also invest in their personal development. With the success of our LEAD initiative, we are even more deeply motivated towards our aim to prepare future leaders of the Banking and Finance Industry who will strongly contribute to the Sultanate's national workforce."
The LEAD program was designed and facilitated in cooperation with Inspirational Development Group (IDG), a global leadership and management performance consultancy. With the first three modules covering topics like development of leadership styles, self-awareness and strategic management, the final module highlighted areas such as strategic leadership and problem analysis as personal development planning including ways to self-measure progress and improve personal accountability.
Highly regarded for its standards of military training, the Royal Military Academy Sandhurst has been home to generations of royal families globally who have undergone training at the British Army's initial officer training centre. At the Academy, the teams visited the 'Qaboos Pavilion' which is founded by His Majesty Sultan Qaboos for sports and recreational activities and toured Westminster Hall which connects the House of Lords and House of Commons. The delegates also had the chance to meet with Sir Jock Stirrup, a Senior Royal Air Force Commando and former Chief of Defense Staff before commencing their training the following day.
https://www.oman-arabbank.com/wp-content/uploads/OAB-Sandhurst-LEAD-Group-e1482339952761.jpg
0
0
Yazan Amro
https://www.oman-arabbank.com/wp-content/uploads/SiteLogo-300x97.png
Yazan Amro
2016-12-21 21:06:26
2016-12-21 21:06:26
HIGH POTENTIAL OAB EMPLOYEES LEAD PRESENTATIONS AT ROYAL MILITARY ACADEMY SANDHURST