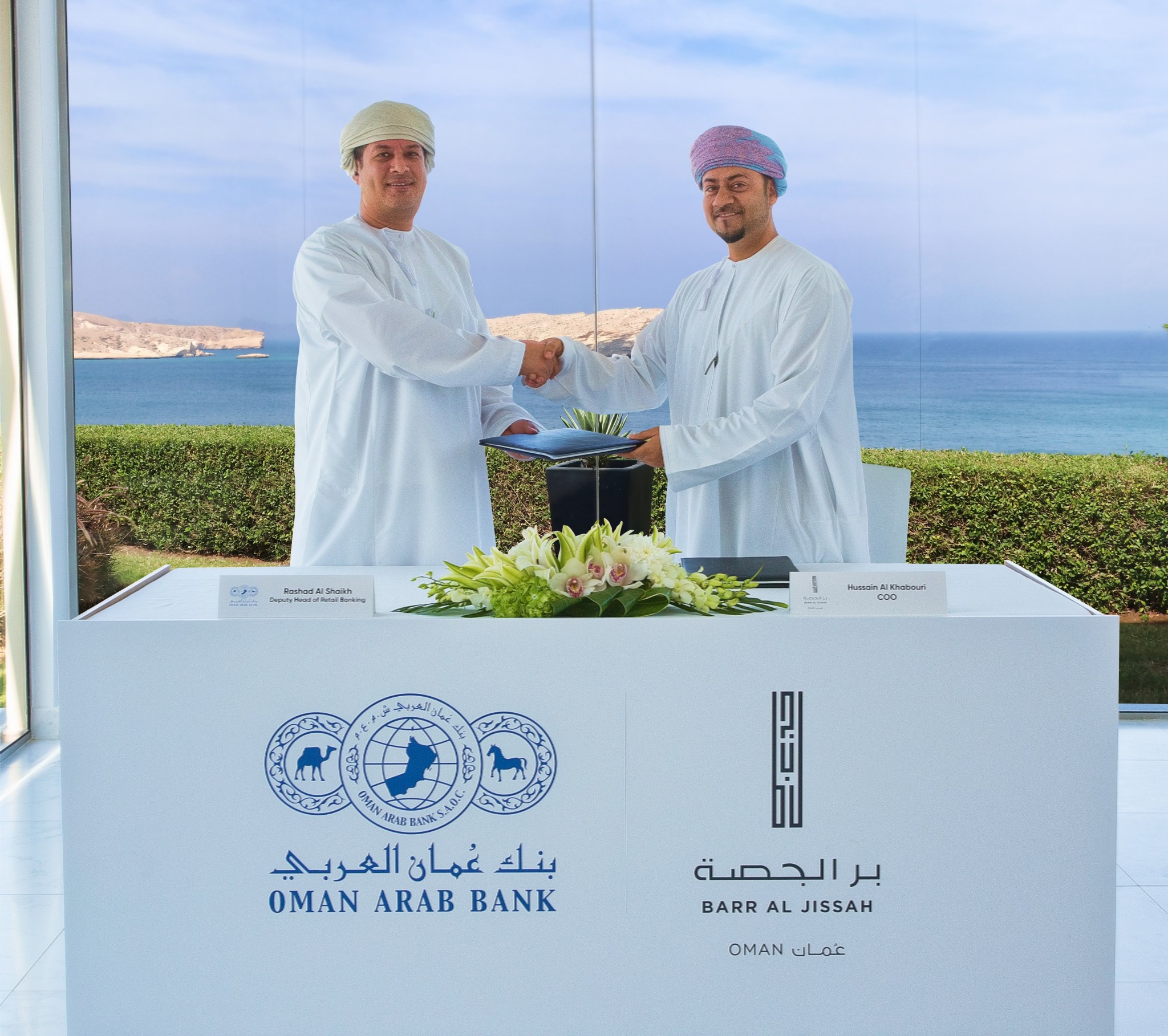 Muscat, February 18, 2018: Barr Al Jissah, the exceptionally exclusive destination and first Integrated Tourism Complex (ITC) in Oman, and Oman Arab Bank (OAB), a leading Banking institutions in the country, signed a Memorandum of Understanding (MoU) for a long term partnership. This partnership will see Barr Al Jissah and OAB's Elite Banking Program, one of the most established programs of its kind in the country, join forces to offer exclusive luxury services and experiences to customers with very privileged benefits.
The signing of the agreement took place on February 5. Representing Barr Al Jissah at the event was Hussain Al Khabouri, the Chief Operating Officer, while OAB was represented by Rashad Al Shaikh, the DGM of Retail Banking. The Executive management and senior members of staff from both companies were also in attendance.
Commenting on the new partnership, Hussain said, "OAB's Elite banking service for high net worth individuals, complete with its host of exclusive benefits and dedicated customer service sections in all flagship branches, is amongst the best available in the market. It is a perfect complement to the exceptional services and benefits we ourselves offer to visitors and home owners. We are honoured to have signed this MoU with them and I am confident their Elite banking service will be a great addition for all our new and existing home owners, whilst the preferential home financing will be a great option for those still looking to purchase a property here at Barr Al Jissah."
Rashad added, "As the Sultanate's first established ITC and one of the leading luxury destinations, Barr Al Jissah offers unique lifestyle experiences that cannot be found elsewhere in the country. The high-end luxury homes and lifestyle they offer are of the highest calibre and of a standard that perfectly complements our Elite Banking Service. We are honoured to have joined hands with them and look forward to a long a fruitful partnership ahead.
As part of the partnership, Barr Al Jissah lifestyle and OAB Elite Banking services will be offered with some exceptional benefits. These will include Home Loans at preferential rates from OAB for anyone looking to purchase property at the ITC. The Bank will also present all existing and new home owners at Barr Al Jissah with an Elite Banking account together with all the benefits that accompany it. This includes a dedicated relationship manager, free for life Elite Visa Infinite Credit and Platinum Debit card, preferential pricing on deposits and loans, special tariffs for bank charges (including safe lockers), unlimited complimentary lounge access at over 700 International Airports, complimentary chauffeur service for up to six trips a year to and from Muscat International Airport, and free travel insurance, purchase protection, and extended warranty with Visa Infinite. Furthermore, OAB Elite Visa Infinite customers can enjoy value added offers at renowned merchants across the Sultanate of Oman and GCC and will be presented with free 2,000 bonus points upon card activation. Card usage is also rewarded with spend points at the rate of one point for each one riyal transaction. These can be redeemed online across major airlines, hotels, or car rentals.
In addition, Barr Al Jissah real estate projects, namely its Al Mina Waterfront Residential Development and Bannenberg & Rowell Limited Edition Townhomes, will be exclusively showcased as the suggested real estate project within the OAB elite banking investment consultancy program. The Al Mina Waterfront Residential Development, which is currently under construction, is the latest addition to the ITC and is home to the cleanest and deepest marina in the country. The Bannenberg & Rowell Limited edition townhomes are a one-of-a-kind home with a unique interior inspired by modern yacht design.
As part of the MoU, Barr Al Jissah will provide all OAB Elite customers with a number of offers for the facilities, lifestyle experience, and services available at the ITC. These include 25% discount and priority booking at BAJ events with door-to-door delivery of tickets, 30% discounts for family and children's activities at the Al Mazaar Entertainment Centre, and 20% off rooms, dining and spa at both Shangri-La Barr Al Jissah Resort & Spa and Shangri-La Al Husn Resort & Spa. Oman Arab Bank Elite Customers looking to purchase home at Barr Al Jissah will also be presented with preferential pricing.
Purchasing a home at Barr Al Jissah also comes with a host of exclusive and exceptional lifestyle benefits. These include direct access to the luxury amenities provided by Shangri-La Barr Al Jissah Resort & Spa and Shangri-La Al Husn Resort & Spa via a membership program, as well as access to the private beaches and exclusive marina facilities of Barr Al Jissah through private berth booking and being a home owner. The latter include access to the members-only yacht club and its facilities. The Yacht Club, which is currently under construction, will include a new dive and sailing centre, private beach, two saltwater infinity pools and a unique beachfront zone. The club will also feature a one-of-a-kind upscale marina-side boardwalk with boutique retail outlets and al-fresco dining.
In addition to these benefits, Barr Al Jissah home owners also receive private concierge services by a dedicated in-house team. This service will be complemented by a soon-to-be-released secure and personalised mobile app offering home and yacht owners at Barr Al Jissah the most convenient lifestyle available in the country.
For further information and details, please visit www.barraljissah.com and www.oman-arabbank.com
https://www.oman-arabbank.com/wp-content/uploads/Barr-Al-Jissa.jpg
0
0
Yazan Amro
https://www.oman-arabbank.com/wp-content/uploads/SiteLogo-300x97.png
Yazan Amro
2018-02-18 16:47:16
2018-02-18 16:47:16
Barr Al Jissah and Oman Arab Bank Join Hands to Offer New Luxury Lifestyle Experiences