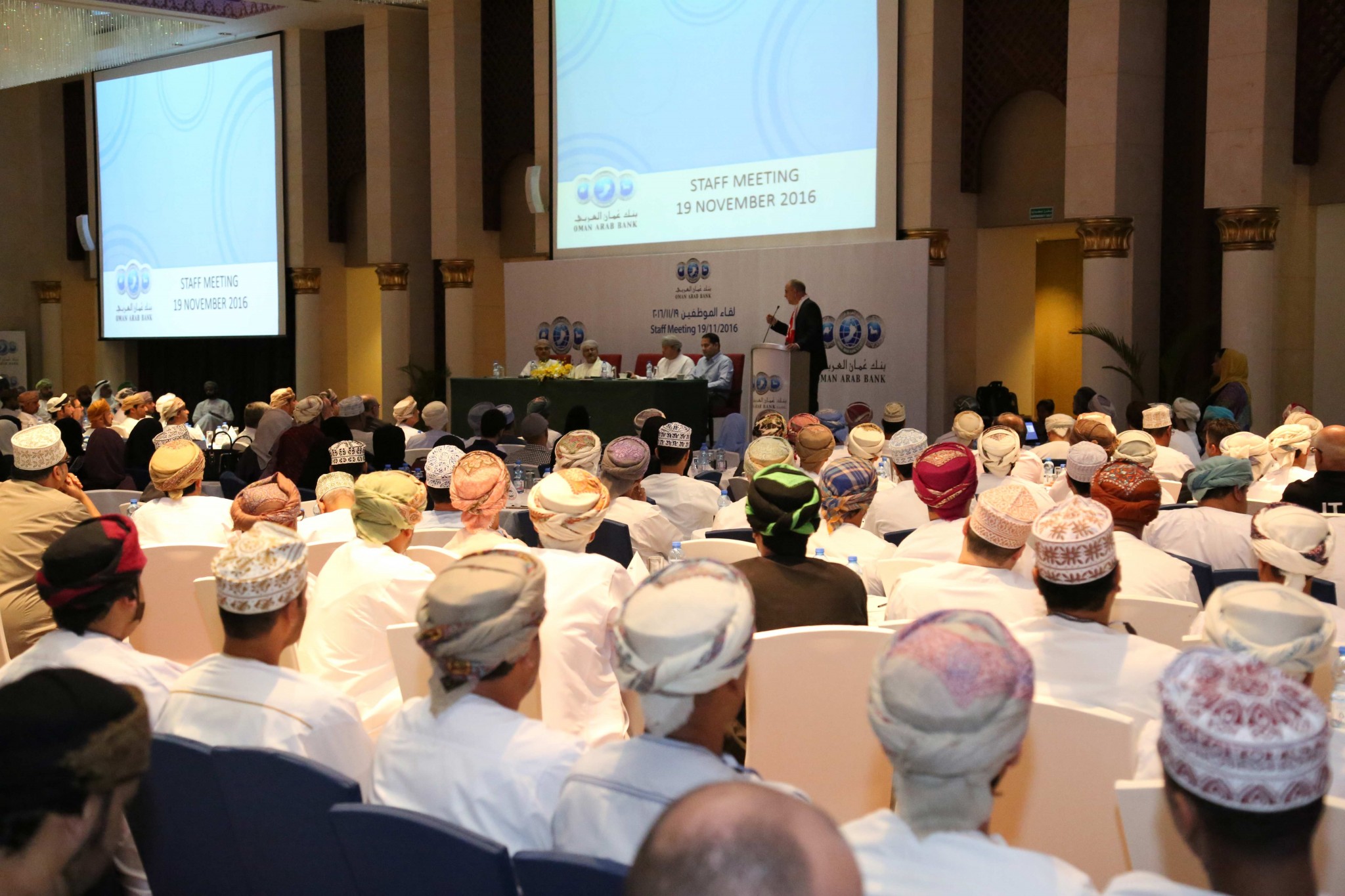 Muscat, 3rd December 2016: Oman Arab Bank held its first town hall meeting open to all staff members at the Shangri-La Barr Al Jissah Resort and Spa. Lead by Amin Al Husseini, CEO of OAB, the meeting highlighted the Bank's achievements throughout the year and shed light on its development plans for 2017.
At the event, Amin Al Husseini welcomed the attendees by congratulating them on another successful year and thanked them for their contribution to the Bank's growth. He then touched upon the various milestones achieved by the Bank during the year and discussed the Bank's direction going forward for the next year and business strategies to ensure consistent progress.
Speaking further on the development of the Bank, Amin Al Husseini said, "Oman Arab Bank has grown leaps and bounds in the past few years and the growth in our revenue and portfolio of services is only an indication of the level of progress that is yet to come. Our history of success established over the last three decades has been possible due to the strong support of our loyal customers and the skills and expertise of our employees and moving forward, it is important for us to continue investing in our strengths and work towards our aim of becoming the leading Bank in the Sultanate."
Also present at the event, Deputy CEO of OAB Rashad bin Ali Al-Musafir remarked, "Our strategy for the next year entails advancing our customer service to the next level and expanding our present portfolio of banking services and solutions. We are also looking to introduce several more trainings to augment the expertise of our national workforce which will further strengthen the operations of the Bank and increase our contribution towards the economy of the Sultanate."
The event also highlighted the various services OAB introduced to its customers this year as well as some new products scheduled to be launched soon. The employees were shown a demonstrative on the latest technologies being implemented that will empower customers with easier and more efficient banking solutions.
https://www.oman-arabbank.com/wp-content/uploads/OAB-First-Town-Hall-Meeting.jpg
0
0
Yazan Amro
https://www.oman-arabbank.com/wp-content/uploads/SiteLogo-300x97.png
Yazan Amro
2016-12-03 10:31:23
2016-12-08 18:32:34
OMAN ARAB BANK HOSTS FIRST-OF-ITS-KIND TOWN HALL MEETING TO REVIEW PROGRESS AND FUTURE DEVELOPMENTS