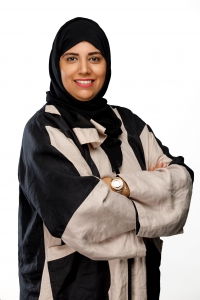 Muscat, October 13, 2020: Oman Arab Bank recently participated in the New Age Banking Summit, held on October 6, 2020. The event was held at Hotel Sheraton Oman and saw the Bank take part in discussions around the theme of "The Future of Banking and Fintech". During the summit, OAB was bestowed with the 'Leadership in Agile Banking' award, reinforcing its dedication to the provision of high-quality customer experience.
Highlighting the importance of the event, Asma Al Zadjali, Head of Banking Operations Group, said, "Finding means to incorporate or implement FinTech innovations as part of our services is an integral part in our efforts to help accelerate the e-commerce industry and bring about a new age of digital banking. This is why we are and have always been keen on holding workshops catered to delivering value-added skill sets, experiences and networking opportunities to FinTechs, so that they may play a role in creating a thriving innovative banking eco-system. With key programmes and initiatives to develop innovation, local talent and entrepreneurship in place, we will be able to contribute significantly towards building the Sultanate's knowledge-based economy and create value for the community at large."
Business agility is a necessity for the long-term survival of any organisation in today's rapidly changing times. OAB has established itself as a pioneer in the region, especially when it comes to adopting Agile practices. With a core focus on simplifying processes for its customers and enhancing their digital experience, the Bank needed to restructure how the internal IT and Operations facilities functioned. OAB looked to implement the best-in-class practices in Agile to ensure a robust foundation for its step towards digitisation. While Agile is easier to implement within smaller teams, it was a huge challenge to upscale it at an enterprise level. OAB began with around 3 teams, rapidly resulting in a growth of over 170 people that are grouped in Agile release trains today. The Bank continues to collaborate in self-configuring and self-managing teams, to produce predictable results every quarter at a sustainable pace. OAB continues to invest and grow Agile internally, maintaining its lead in the region through the participation and creation of a community around this philosophy.
Our Agile methodology and approach has helped us to stay committed to developing and promoting digitalised products and services to enrich overall customer banking experience. By doing so, the Bank seeks to position itself as a pioneer within the local banking industry, offering a variety of AI-driven technology that boosts convenience for all users. The Bank has also focused on an omni-channel approach, with a majority of its services available online and through the OAB Online App. Over the years, OAB has successfully contributed to accelerating the sector's digital transformation journey by delivering an unrivalled customer experience. This also stems from its implementation of a strong Agile culture, which is primarily focused on cross-functional collaboration.
"I would like to thank OER for presenting us with the 'Leadership in Agile Banking' award, which is a testament to our long-term transformational strategy, allowing us to evolve from a traditional bank to a state-of-the-art banking institution that is a life partner to all our customers. In line with our Agile strategy, we have placed more emphasis on a customer-centric approach, especially when it comes to business strategy and direction. Therefore, we can continue offering added-value and innovative solutions to our customers, enhance efficiencies and empower our staff to play key roles in realising the Bank's strategic objectives." Asma concluded.
Oman Arab Bank has a rich and proud history as one of the first financial institutions to be established in the Sultanate. Today, the bank operates a nationwide network of 55 branches and representative offices with 152 ATMs spread across Oman. OAB provides a complete range of financial products and services for personal banking and corporate banking.
https://www.oman-arabbank.com/wp-content/uploads/1-8.jpg
1312
2048
Hilal Al Siyabi
https://www.oman-arabbank.com/wp-content/uploads/SiteLogo-300x97.png
Hilal Al Siyabi
2020-10-13 15:31:23
2020-10-13 16:54:19
OAB Receives Notable Accolade at New Age Banking Summit