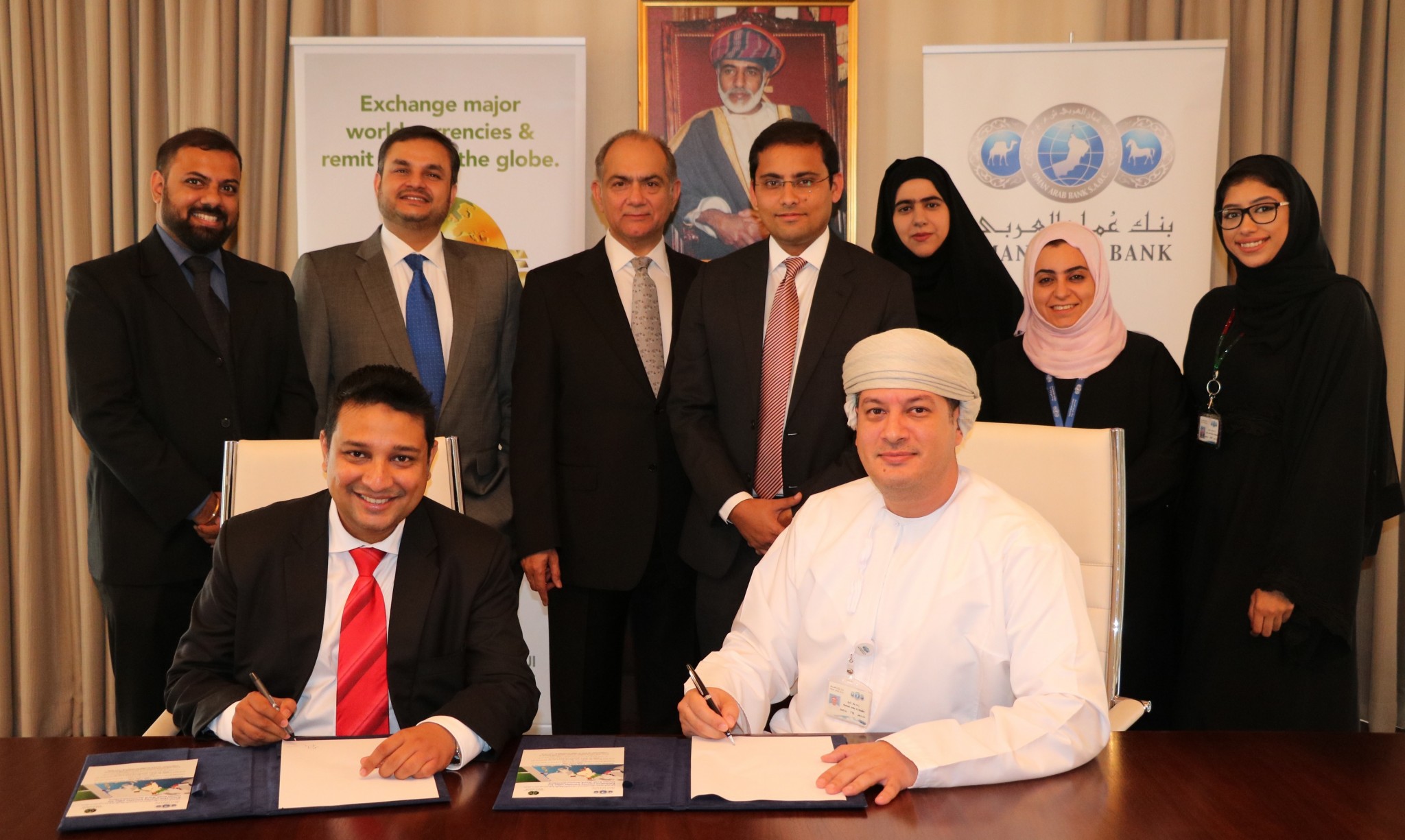 Muscat, July 30, 2017: Oman Arab Bank (OAB), one of the first banks to be established in the Sultanate, recently signed a new partnership with Oman United Exchange Company (OUE) to make it even more convenient for customers to transfer remittances abroad for lower services fees. The signing ceremony for the partnership was held at Oman Arab Bank head office. Representing OAB at the ceremony was Rashad Al Shaikh, DGM Retail Banking, while Mr. Syed Faraz Ahmed, General Manager represented the exchange company.
The partnership will enable OAB customers to make International Transfers to India, Pakistan, Sri Lanka, Bangladesh, Philippines, and Egypt, at a discounted rate of just OMR 1.500 at any OUE location by using their debit cards at the POS machines installed at each outlet. Furthermore, all POS charges at the branches will be waived for OAB customers.
Commenting on the new partnership Rashad Al Shaikh said, "Our collaboration with OUE allows us to forge a mutually beneficial strategic partnership between our two institutions. It is also in-line with the strategy of the Bank in aiming to reach out to a broader client base; offering them flexible, innovative, and cost effective financial solutions specially designed to cater to their specific needs."
"As with OAB, we are always on the lookout for opportunities to make our services readily available to a broader spectrum of our customer base, while at the same time making our services even more affordable. This partnership has enabled us achieve exactly this, allowing us to offer bank transfers to the most commonly used countries at a rate unmatched by the market," added Mr. Syed Faraz Ahmed  the General Manager of OUE.
"The ability to transfer money directly from POS machines located at OUE sites at special rates exclusive to our customers will offer them great value. It will also provide them with total peace-of-mind by not having them worry about withdrawing or carrying large sums of cash from location to location. As such, I am confident this partnership will be a value addition to the services offered by both OAB and OUE," concluded Rashad.
Additional information can also be obtained at each of the seven OUE branches; located in Ruwi, Salalah, Ghubra, Sohar, Salalah Industrial Area, Barka, and Duqm.
Oman Arab Bank is one of the first banks to be established in Oman, with a rich and proud history. Today, the bank operates a nationwide network of 56 branches and offices and over 135 ATMs spread across the Sultanate. OAB provides the complete range of financial products and services for personal banking, corporate and investment clients.
https://www.oman-arabbank.com/wp-content/uploads/OAB-OUE-Partnership-web.jpg
0
0
Yazan Amro
https://www.oman-arabbank.com/wp-content/uploads/SiteLogo-300x97.png
Yazan Amro
2017-07-31 19:38:09
2017-07-31 19:38:09
OAB Partners with OUE for Affordable Remittances