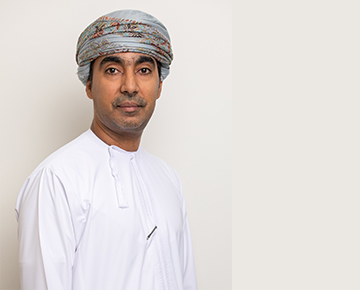 Adil Al Rahbi: "Future job competencies will differ from what they are today and it is our role to empower and prepare the youth."
Muscat, January 05, 2021: Oman Arab Bank launched the second batch of educational workshops on its online Learning Hub platform, which has received a positive response from its users. These include youth and upcoming entrepreneurs interested in enriching their skills in the fields of computer science, financial technologies and business administration. Following the launch of the second batch in November, several young individuals signed up to register and attend the innovative workshops that focus on a multitude of topics, including machine learning, artificial intelligence, new technology applications, business identities and other specialisations.
Commenting on the workshops, Adil Al Rahbi, Head of Human Resources Division at OAB, said, "A majority of institutions focus on launching initiatives centered on fields they specialise in. At OAB, we believe that our broader vision and role in society goes above and beyond the framework of financial services, through the provision of free educational services for the widest possible segment of young individuals. Future job competencies will differ from what they are today and it is our role to empower and prepare the youth."
"To achieve this, we have entered into partnerships with specialists and institutions that are known to deliver expertise and knowledge enhancement. Agreements have been signed with renowned companies locally, regionally and globally, with the main aim to provide free educational sources to the youth and upcoming entrepreneurs in the Sultanate," Al Rahbi added.
The second batch of workshops kicked-off on November 22nd and will continue until February 2021. Each will cover a specific topic and will be presented by an expert from within or outside Oman. All workshops are announced on OAB's social media platforms on monthly basis. The launch of the second batch follows the success of the first series of workshops, which was launched earlier this year. The preliminary set of workshops saw over 700 participants attend more than 20 workshops in two months.
"Oman Arab Bank's Learning Hub is the ideal platform for the youth to acquire a new and diverse set of skills to help them build a promising career in the future. Given the high number of registrations for the workshops, we believe that that the youth are keen to become the leaders of tomorrow and are proud to do our part in empowering them to achieve this objective," Al Rahbi concluded.
Oman Arab Bank has a rich and proud history as one of the first financial institutions to be established in the Sultanate. Today, the bank operates a nationwide network of 54 branches and representative offices and 160 ATMs spread across Oman. OAB provides a complete range of financial products and services for personal banking, corporate banking and investment clients.
https://www.oman-arabbank.com/wp-content/uploads/Adil-Al-Rahbi-Head-of-the-Human-Resources-img.jpg
290
360
Hilal Al Siyabi
https://www.oman-arabbank.com/wp-content/uploads/SiteLogo-300x97.png
Hilal Al Siyabi
2021-01-05 15:11:04
2021-01-05 15:11:04
OAB Enhances Skills of the Youth and Entrepreneurs through its Learning Hub