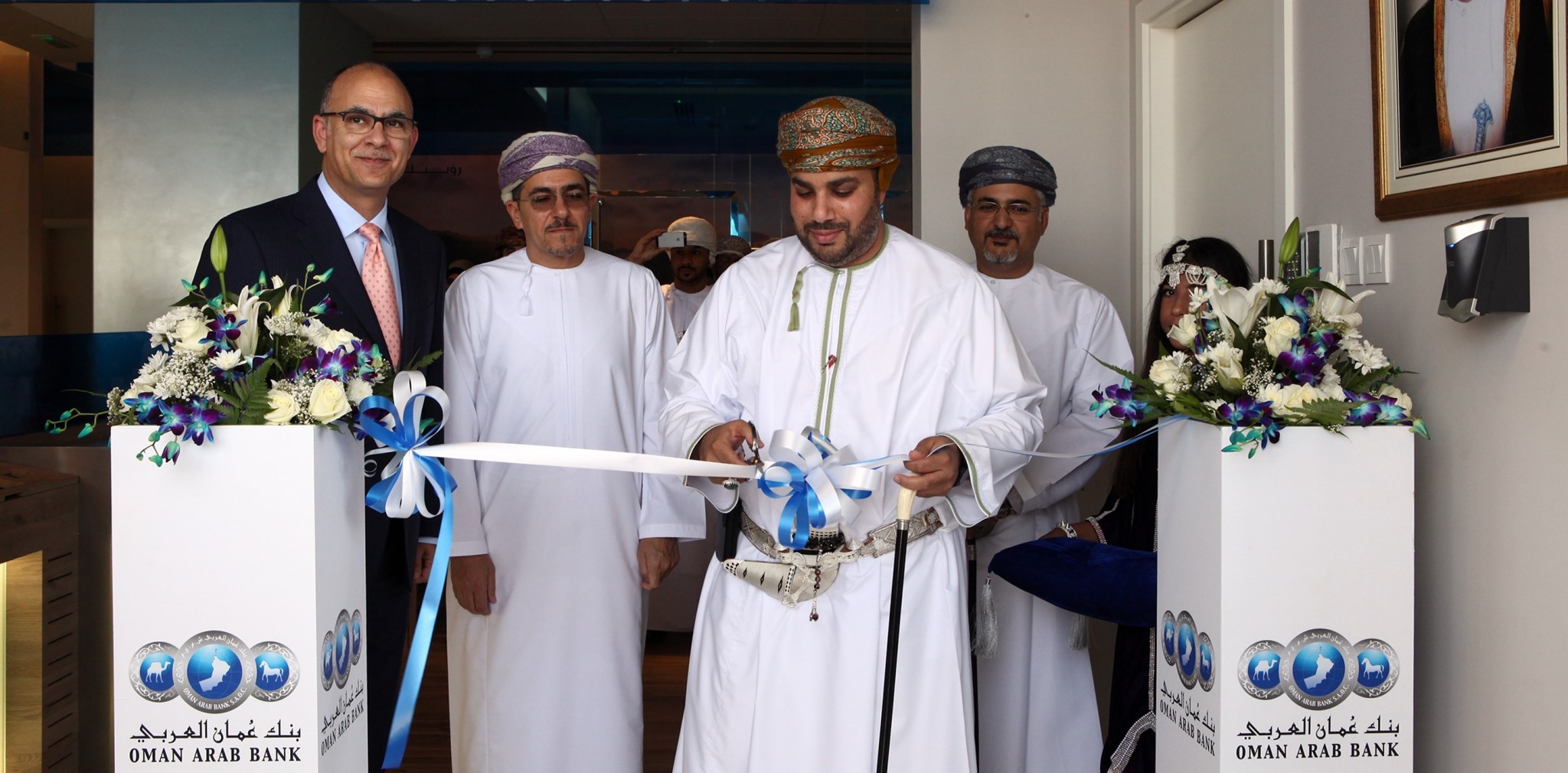 New branch prominently located on Sultan Qaboos Street and open from 8:00 am to 2:00 pm
Muscat, May 31, 2017: Oman Arab bank (OAB) recently celebrated the official opening of its new Al Hail branch, prominently located on Sultan Qaboos Street. The opening of this new branch takes the total number of branches within the OAB network to 66 and marks the Banks first ever branch in the Al Hail area. Following in the footsteps of the recently launched Nizwa Branch, the 'new look' Al Hail branch follows a modern design philosophy,  and extends the banks reach by delivering an enhanced banking experience for its growing customer base in the Muscat region.
The official branch opening took place on May 25, under the auspices of His Highness Al Sayyid Marwan bin Turki Al Said, DG Research and Development Studies at the Supreme Council of Planning, and was attended by Mulham Al Jarf, OAB Board member, and Amin Al Husseini, CEO of OAB; together with other members of the Bank's management and staff.
Commenting on the opening of the new branch, Amin Al Husseini noted, "Through our international expertise and local capability we at OAB continue to deliver class-leading products and services to our customers; whilst building our branch network to deliver greater access and convenience to our growing customer base. We remain confident, strong and are committed towards moving forward together with our customers. The opening of this, our 66th branch, is in line with this objective; offering customers in the area convenient and accessible banking solutions."
Integral to OAB's transformation strategy, the new Al Hail branch features an enhanced brand identity with a refreshed look and feel and modern environments. The design concept takes inspiration from the 'Omani Skyline', and uses a palette of four colours – white, brown, grey, and blue; wherein the white symbolises Omani architecture, browns denote the sand deserts, grey referencing the mountains, and the blue glass overhangs representing the sky.
The sleek, modern, and streamlined look is further augmented by a similar array of new customer friendly features and systems introduced for the first time in the Nizwa branch. These include the new advanced meet and greet facility with streamlined queuing, video walls for bank news, private advisory spaces with moving monitor screens for more personal interaction, together with digital signature pads and ID Card readers built within the advisory station area. Each of these advanced features has been designed to facilitate a more paperless operation within the branch environment.
The new Al Hail branch also features a separate 'Elite' reception area, two lounges and dedicated Elite Relationship Managers; ensuring premium customers can enjoy an elegant and private banking experience.
"A similar zonal structure to what was featured in the Nizwa branch has also been incorporated here; with each of the four zones colour coded and dedicated to a specific task – meet and greet, transactions, customer support, and Elite. This approach not only simplifies the structure and facilities of the branch for our customers, but also streamlines operations and improves efficiency. The new branch reaffirms our commitment towards providing customers with a fast, convenient, and trouble-free banking experience that is unique to OAB," concluded Fahd Amjad, GM of Retail Banking at OAB.
Oman Arab Bank is one of the first banks to be established in Oman, with a rich and proud history. Today, the bank operates a nationwide network of 66 branches and offices and over 135 ATMs spread across the Sultanate. OAB provides the complete range of financial products and services for personal banking, corporate and investment clients.
https://www.oman-arabbank.com/wp-content/uploads/Al-Hail-Branch-Opening-web.jpg
0
0
Yazan Amro
https://www.oman-arabbank.com/wp-content/uploads/SiteLogo-300x97.png
Yazan Amro
2017-06-02 17:09:17
2017-06-08 02:30:40
OAB Celebrates Opening of New State-of-the-Art Branch in Al Hail