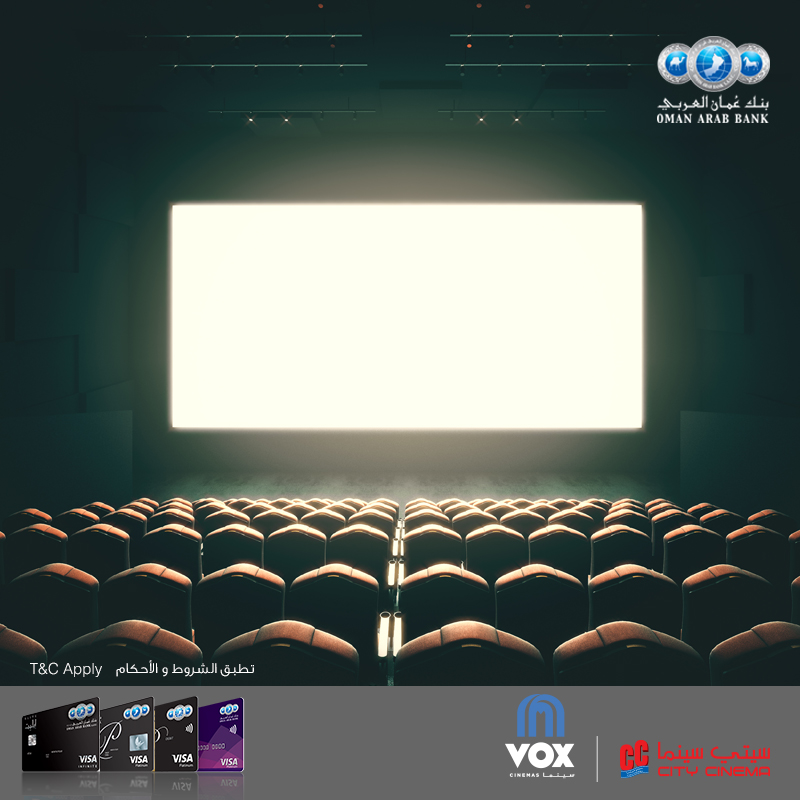 Offer
Get 50% off your movie tickets with OAB Visa Credit Card.Book online at VOX cinemas using your OAB Visa Platinum or Infinite
Credit Card every Tuesday and Wednesday to avail the offer.
To book, please visit https://oman.voxcinemas.com
Offer Details
Offer valid for OAB Visa Platinum and Infinite Credit cards.
Offer valid on a maximum of 6 tickets per session and 20 tickets per month
The offer is available on Tuesday and Wednesday showtimes only
The offer is available for Vox Cinemas 2D and 3D Standard, VIP, MAX, IMAX, and 4DX sessions
The offer is valid on City Cinemas 2D and 3D Shatti, Salalah, Salalah VIP, MGM, Azaiba, Azaiba premium, Ruwi, Ruwi Gold, Ruwi Platinum, Sohar, Buraimi and Sur and 3D only for MX4D and VIP(Panorama).
The offer is valid solely online purchases
The offer is not valid in conjunction with any special promotion, private screening or premiere at VOX Cinemas or City Cinemas in Oman
Tickets purchased on the date are non-refundable and non-transferable
Offer valid until 30 September 2018. Terms and conditions apply.