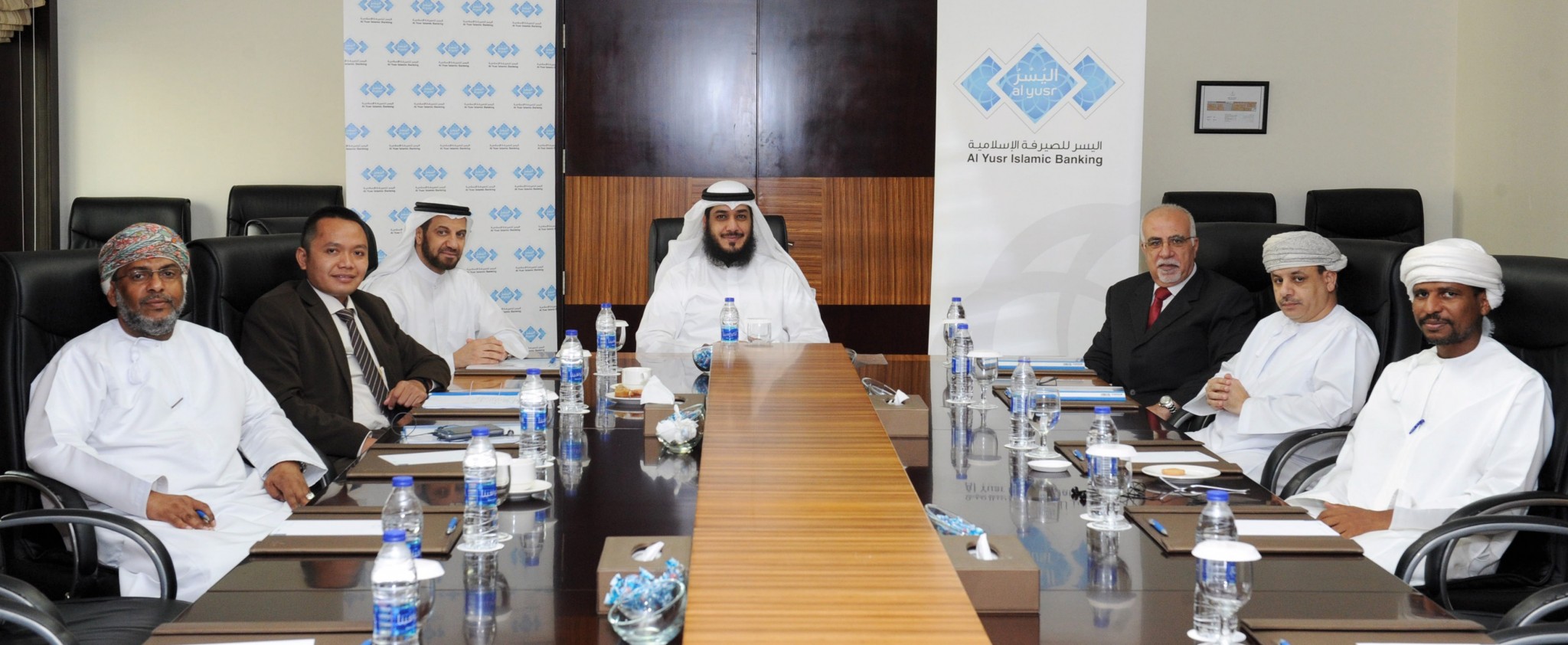 Muscat, August 06, 2017: Al Yusr, the Islamic Banking Window of Oman Arab Bank (OAB), recently held its second Shari'ah Supervisory Board meeting for the year 2017. The meeting, held at the Al Yusr Administrative Office in Al Ghoubra, was attended by Dr. Essam al Enezi, chairman of the Al Yusr Shari'ah Supervisory Board, Dr. Ahmad Ayyadi, Dr. Abdulaziz Al Qassar and Dr. Khalifah bin Ahmed Al Ghammari, General Manager of the Al Yusr Islamic Banking Window. The meeting reviewed the most important activities and works related to the Shari'ah Supervisory Board achieved during the second quarter of the current year. The board reviewed reports issued by the Internal Shari'ah Supervisory Department of the Islamic Window, including the Shari'ah auditing and compliance reports as well as the most important banking jurisprudential issues faced by the Islamic Banking Window during the same period.
Commenting on the importance of such meetings, Dr. Khalifah Al Ghammari, said, "This meeting is the second for Al Yusr this year as part of our regular meetings held by the Shari'ah Supervisory Board and are held in response to the regulatory and legislative requirements of the Central Bank of Oman. The meeting reviewed and discussed the most important activities and works achieved during the second quarter of 2017 in order to ensure the effective functioning of Al Yusr in accordance with the requirements stipulated in the regulatory framework for Islamic Banking services. The Shari'ah Supervisory Board assists Al Yusr in providing the best Shari'ah compliant products and services, therefore, I would like to thank all the Board members' for their continued support in providing quality services and products that are in line with the principles of Islamic Banking."
The members of the Board expressed their appreciation for the efforts of Al Yusr and its employees in creating Shari'ah compliant banking products that meet the needs of all customers, individuals, and institutions. The Board also praised the remarkable growth in efficiency of the Internal Shari'ah Department and the quality of services offered. This significant development had a direct impact in raising the level of trust and awareness of the community in Islamic Banking, which will contribute to the growth of market share for Islamic Banking in the Sultanate.
Al Yusr is the Islamic window of OAB. Established in 2013, the Islamic banking window provides services via seven branches; two in the Muscat Governorate (Athaiba and Wattaya), and others in Salalah, Nizwa, Falaj al-Qabail, Ibra and Al-Buraimi. Al Yusr customers also have access to 148 OAB ATM's located across Oman. Al Yusr Islamic Banking provides its retail and corporate customers as well as investors' a wide range of shari'ah compliant products and services.
http://www.oman-arabbank.com/wp-content/uploads/06-08-17-Al-Yusr-Holds-the-Second-SSB-Meeting-2.jpg
0
0
Yazan Amro
http://oman-arabbank.com/wp-content/uploads/logo_white.png
Yazan Amro
2017-08-06 20:47:23
2017-08-06 20:47:23
Al Yusr Holds the Second Shari'ah Supervisory Board Meeting for 2017